Since Bram Stoker lit his first candle to see the ink drying on his story of Dracula the local vampires have preferred the night and twilight. So might you if you see the light like this around St Mary's and the Abbey. Gouls, Goths and Vampires are generally portrayed in black but when shown in their true colours it can be quite illuminating.
Can you see the vampires heading down the steps to the sea front? Mind how you go or we may never see you again.
Take your own Vampire potions and protection with you if you venture out as the lights begin to twinkle, dim and then disappear as night sets in and Vampires start to roam.
Avoid getting spooked, meeting a zombie or getting kissed on the neck in Whitby. On a positive note dawn has always returned, so far!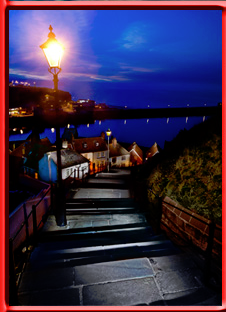 Illuminating Images
This page has been designed in part to promote a series of Whitby photographs which use light in a variety of ways to emphasise the nature of our favourite Yorkshire seaside town. The real images are bigger better and dare I say it 'more spooky' but follow a successful, tried and tested theme.
Similar works based on clever lighting of Ilkley Moor are available from retailers in Ilkley and a deal could be done for a Whitby organisation that sees the light. Contact Chris North Photography.
Whitby Home For Vampires
Not Goulish enough for you? Try reading 'Whitby Vampyrrhic' by Simon Clark
JOHUTCH says 'This book is probably one of my all time favourites and I have read a lot of horror books. Mr Clark draws you in to the characters straight away and the storyline is transfixing…. Give him a go, in my opinion he is better than King.'
Other novels by Simon Clark in order of publication over the last 17 years
Nailed by the Heart
Blood Crazy
Darker
King Blood
The Fall
Judas Tree
Darkness Demands
The Night of the Triffids
Stranger
In This Skin
The Tower
Death's Dominion
London Under Midnight
Lucifer's Ark
This Rage of Echoes
The Midnight Man
Stone Cold Calling
Vengeance Child
This Ghosting Tide
Ghost Monster
Whitby Vampyrrhic
The Gravedigger's Tale
His Vampyrrhic Bride
Simon Clark is from Doncaster and is best known for his 'The Night of the Triffids' a sequel to Wyndham Lewis's 'The Day of The Triffids'. The sequel takes up the story twenty-five years later when the now grown-up son of Bill Masen is still searching for a method of destroying the implacable triffid plant as it continues its worldwide march.
Simon also wrote many short stories and 'Doctor Who Dalek Factor'.
WGW is the Whitby Goth Weekend which runs from Halloween to Bonfire night. The big event 4th-6th November 2016 is sold out. This gathering of Steampunks, emos, goths, metallers, and other musical genres makes for a very suitable Whitby weekend home for 'Vampires Who Fear The Light'.
Let the light shine but not too brightly!