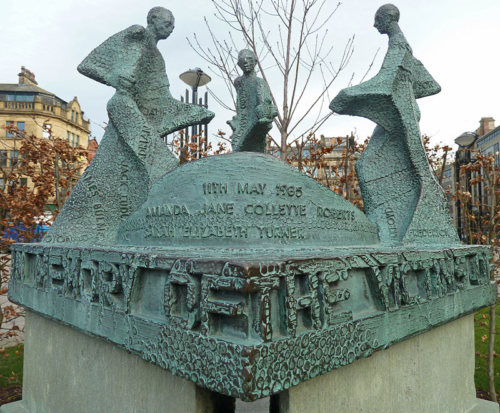 Valley Parade Fire Memorial Bradford
Over the Christmas period families and supporters at Hillsborough and Valley Parade football grounds will remember the great tragedies that happened on April 15th 1989 and May 11th 1985.  At Hillsborough 96 Liverpool supporters died and at Bradford City's Valley Parade ground 4 years earlier 56 people had lost their lives.
'It was the deaths of 66 supporters at Ibrox in 1971 that led to the introduction of the first piece of legislation that offered protection to sports fans, the 1975 Safety of Sports Grounds Act. The Thatcher government staggered the legislation's introduction indefinitely postponed for lower division grounds on the basis that they were not attended in sufficient numbers.
The unimplemented regulations anticipated stand fires. They stated that wooden stands should be capable of evacuation in 2½ minutes, that all combustible material be removed from beneath them, any voids that caused such an accumulation be sealed, and that no one should be more than 30 metres from the nearest manned exit. None of these conditions were met at Bradford.'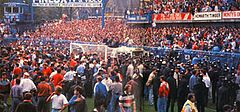 'On April 15 1989 over 25,000 Liverpool fans traveled to Hillsborough Sheffield to support their team in the FA Cup semi-final against Nottingham Forest. Ninety six of them never returned. Nineteen years later friends and family of those who lost their lives were joined by thousands of fans at Anfield to pay tribute to 96 Liverpool supporters who will never be forgotten. This years 20th anniversary will be more poignant.
The Taylor Report led to the introduction of all seater stadiums for Premiership grounds but the final report did not satisfy friends and families even though the interim report promise much.
Such loss of life is a tragedy but the commitment from supporters, the public and the emergency services are something to be proud of. Let us hope tragedies on such a scale are never seen again at any sporting venues.
2016 The New Hillsborough Inquest
In December 2012 the High Court quashed the verdicts in the original inquests and ordered fresh inquests to be held. On 6 April 2016 nine jurors  returned a verdict of unlawful killing in respect of all 96 victims.  'All families and survivors now have official confirmation of what they always knew was the case, that the Liverpool fans were utterly blameless in the disaster that unfolded at Hillsborough' David Cameron on wikipedia