The great landmark viaduct at Ribblehead. One of the seven industrial wonders of Yorkshire.
'I spy no bridge' at Burnsall just dry stone walls and dales.
How do you get up to this bridge ? It is in the Middle-sborough. Its the famous transporter pet – aufwiedersehen
Hummer it Humber bridge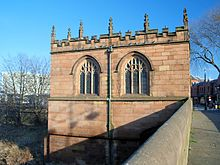 Rotherham Church on the bridge
An Eye opener one Leeds morning.