I would like to tell you about the best beer in Yorkshire but I am still testing them all out. What I can tell you about is the best value for money beer brewed in Yorkshire (and therefore anywhere in the world). Tadcaster has been the home of great Yorkshire brewing since the monks of the 14th Century but in 1758 a brewing dynasty started to emerge. Started by David Backhouse and John Hartley The Old Brewery at Tadcaster was founded in 1758 and since 1848 bears the name of famous local brewer Samuel Smith.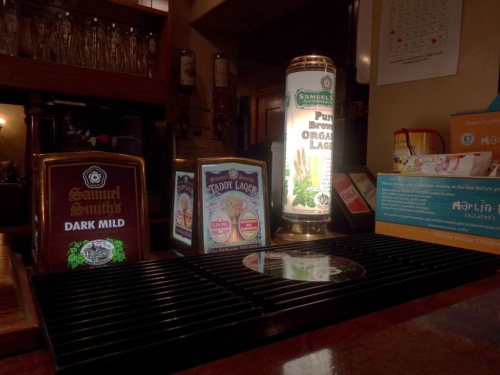 In 1847, Samuel Smith, and his son John bought the struggling brewing business from John Hartley's widow family. John Smith took over the brewery forming John Smith's Brewery in the same year the railway arrived in Tadcaster. He was later joined by his brothers Samuel (Jnr) and William. However William bought Samuel's (Jnr) half and moved the business to a new (John Smiths) brewery. Meanwhile, Samuel (Jnr's) son Samuel Smith inherited the Old Brewery on William's death in 1886, and re-opened the brewery under his own name. A reet family t'do I'd say.
So by 1880 there was John Smiths Brewery which went on to acquire 20 local breweries over the next 40 years before eventually succumbing to Scottish & Newcastle/ Courage et al. Fortunately Samuel Smith Brewery remained and remains today independent in ownership and spirit.
Now a-days, run by Sam Smith brothers Humphrey Richard Woollcombe Smith and Oliver Geoffrey Woollcombe Smith they are coming across as curmudgeonly by banning TV & music in their pubs (hurray), taking down signage and refusing to accommodate smokers in new purpose built units. The managers do not like the changes but it keeps the prices down and the environment drinker friendly. Old Brewery Bitter and Extra Stout (for the missus) are still both well under £2.50 a pint in Yorkshire and also the cheapest good pint you can find in London. See London Sam Smith below:

My personal favourites are the Bricklayers Arms, Chandos (for cheap beer, food and location) and Angel Soho for happy memories. Sam Smiths have significant property investments not least in London and here are some of the great boozers to try when you are away from home.
The Horse and Groom – Location: Great Portland Street
The Glasshouse Stores – Location: Piccadilly Circus
Fitzroy Tavern – Location: Fitzrovia
The Yorkshire Grey – Location: Fitzrovia
The Dover Castle – Location: Marylebone
The Crown and Sugarloaf – Location: Fleet Street
The Crown – Location: Bloomsbury
The Cock – Location: Oxford Circus
The Cittie of Yorke – Location: Holborn
The Chandos – Location: Trafalgar Square
The Champion – Location: Fitzrovia
The Captain Kidd – Location: Wapping
The Bricklayers Arms – Location: Fitzrovia
The Blue Posts – Location: Fitzrovia
The Angel in the Fields – Location: Bond Street
The Angel – Location: Soho
The Angel – Location: Rotherhithe
The Anerley Arms – Location: Anerley
The Duke of York – Location: Marylebone
The Duke of York – Location: Marylebone…
The Earl of Lonsdale – Location: Notting Hill
Ye Olde Swiss Cottage – Location: Swiss Cottage
Ye Olde Cheshire Cheese – Location: Fleet Street
The White Horse – Location: Soho
The Robert Browning – Location: Maida Vale
The Rising Sun – Location: Smithfield
The Red Lion – Location: Soho
The Anchor Tap – Location: Tower Bridge
The Princess Louise – Location: Holborn
Ordnance Arms – Location: St John's Wood
The Lyceum – Location: Strand
List compiled with help from  samsmiths.info the unofficial news site