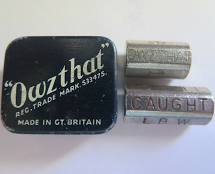 One game that wont need to be cancelled during the period of social distancing is the old standby for wet summer weather – Owzthat!  Called a cricket dice game it is far more than that to me. As a youngster, then a spotty youth I reveled in the game that spoofed cricket.
Two metal slugs with a hexagonal cross section are engraved one for the runs made and the other for the method of dismissal. Numbers 1-4 and 6 and OWZTHAT  are engraved on the smaller there was no 5 as that is seldom a realistic score from one ball. After rolling an owzthat on rolled the umpire slug engraved with caught, bowled, run out, stumped, LBW and not out. With those two items you can roll on to your hearts content.
Initially I would compete with my little sister but her interest waned after a couple of minutes so I competed against myself. Or more accurately I set up competitions against the Aussies or Surrey and other nefarious counties. As a Yorkshire county cricket club junior member from about the age of 8 I sat at Park Avenue or Headingley with my owzthat and note book to keep me amused during intervals in the play. I filled up many silvine red note books with actual or dream teams – 60 years on I wish I still had them. I graduated to a proper score book for games at home but then realised I could get paid for watching cricket as a scorer in the central league. After that epiphany the owzthat was consigned to toy heaven but to me it was much more than a toy.